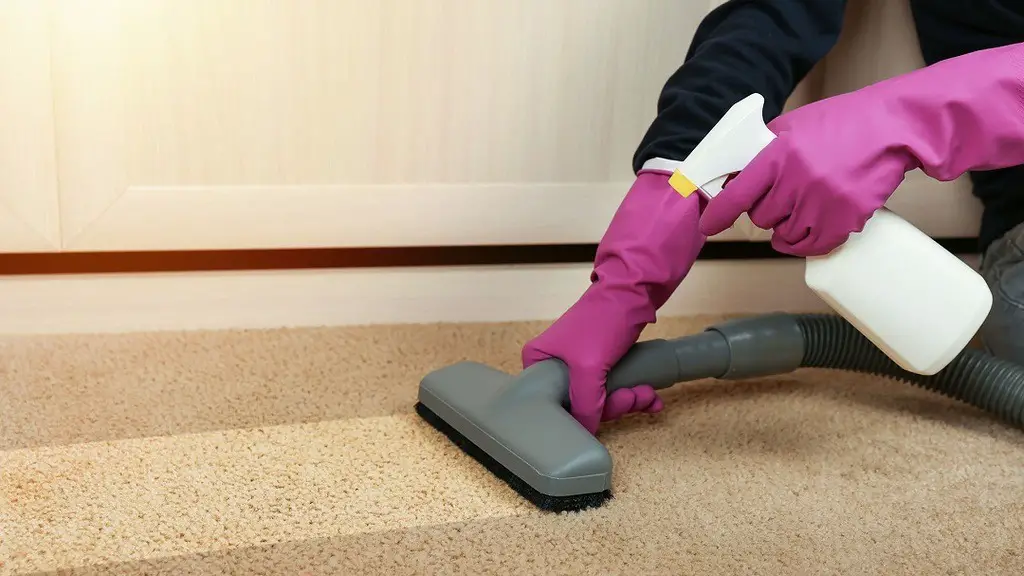 Best Carpet Protectors: Keep Your Home Looking Fantastic
You finally had the carpet of your dreams installed, and now you want to protect it against wear and tear. Whether it's furniture, UV rays, or clumsy people, carpet stains are the worst. Luckily you don't need to grin and bear it. Instead, it's time to get proactive. By protecting the high traffic areas of your carpet, you can save yourself a lot of headaches.
Moreover, you can save on cleaning time and money if you're smart about shielding the floors from whatever falls on them. Sadly, we've all seen those homes that have worn, brown stretches of carpet everywhere you walk. It's especially gross under office desks. So I'm here to help you find the right carpet protector. Avoiding carpet damage is easier than you think. Best of all, it doesn't take much time to keep your beautiful, plush new carpeting as lovely as the day it was installed.
Two Ways to Protect Your Carpet
There are a couple of ways to keep your favorite new carpet looking clean and classy. One of the best things about modern life is all the choices, and carpet protection is no different. Fortunately, it doesn' have to be a chore to find the best solution.
Deciding which type of carpet protection you need depends on how you use the floor. Additionally, the size and coverage of your carpet also matter. Homes with carpet only in bedrooms or offices are a little different from the wall-to-wall carpet that you see in some places.
First, you need to assess the problem. Busy peat and family filled homes end up with stains and dirt all over the place. Meanwhile, for some people, it's just the furniture marks and areas where people sit most that seem to be an issue. Lastly, there's the issue of sun fading.
Once you've figured out what problem you need to prevent, I can help you find the ideal solution. From hallways to dens, dining rooms to playrooms, there's no reason to live with nasty looking carpet.
Solution #1- Spot Treatments
With so many more people working from home than ever before, the home office is one of the most significant carpet damage areas. When you have a particular spot or two that you can't keep clean, you need a targeted solution. Rather than wearing it down, let's fix it up.
Classic carpet protectors are clear plastic or vinyl mats. They fit in any size space and prevent heavy-duty wear and tear. Moreover, you can use these ingenious covers to keep your pets from clawing up areas around doors.
Regrettably, deep pile carpets make it challenging to maneuver. They look beautiful and feel wonderful underfoot. However, in the mess department, thick carpet is the worst. Put a layer of textured carpet protector between your office chair and the floor, and you'll see the difference instantly.
Similarly, you can set a carpet mat under your dining room table to shield your favorite carpet or rug while company visits. Better still, if you have younger kids, these simple covers are a lifesaver under craft tables.
Do you have a shoe-free home that has mostly clean carpets? Slide a protective mat in front of the door to keep anyone from tracking mud onto the house. High traffic areas like the spot where people stand to set their shoes on the rack are ideal for these clever guards.
Solution #2- Area Effect
Some homes need a little more carpet TLC than others. If you or your family and pets are extra active, then a whole-floor solution might suit your needs better. In that case, I recommend using a carpet protection spray.
Have you ever found a stain in a corner after moving a piece of furniture? Sneaky spills and unnoticed accidents don't have to ruin your floors. Plus, those low traffic areas often need less attention to keep them mess-free.
Chemistry is a wonderful thing. You can cover a whole lot of carpet with a coat of protective spray. The downside to this method is that you'll need to reapply it occasionally. However, busy homes need smart solutions, and you can get every inch of your carpet sealed against stains, UV damage, and more with a simple spray bottle.
Fitting a clear mat over oddly shaped edges isn't the best option. With a little more effort, you can keep even the smallest corners stain-free and looking great.
Do Carpet Protectors Work
Protecting your carpet from damage and stains can seem impossible, but it's not. Do carpet protectors work? In a word, yes. Both types have their benefits and drawbacks. I'll explain the limitations.
First up, the carpet protector mat. These are outstanding for preventing wear and compression marks from your furniture. Moreover, they'll block just about anything from getting through to your carpet. However, their scope is limited to the edge of the mat.
If you spill something large enough to leak past the edge, it will get into your carpet. Additionally, it's tough to find a carpet protector mat big enough for a whole room. Hence, this is not the way to keep an entire living room, or carpeted bathroom, looking like new.
Carpet Protector Maintenance
To save your carpets, you also need to maintain your protection. Regardless of which type of protection you opt for, it needs some occasional attention. Moreover, you'll still have to clean up your spills.
Carpet protectors are excellent, but they're not magic. Luckily, a quick, timely wipe is enough to do the job. Make sure you pay attention to your messes lest you end up with a serious issue, like stains, or insects.
Spray protection requires reapplication. Luckily, you don't need to stress over it much. Simply follow the directions on the label and top-off your carpet shield when the time comes.
Mat style covers are just as easy. A damp cloth or mild detergent should clear any spills or scuffs off of your protector. Plastics that are exposed to sunlight for extended periods, months or years, may photodegrade over time. However, you can replace them or coat them in a UV-resistant spray easily enough.
Top Five Best Carpet Protectors
No matter how messy your situation, you can have a simple, clean home. A little research goes a long way when you have a dirty problem. Luckily, I've done all the footwork for you, so you won't need to waste time reading hundreds of pages of listings.
After searching for a way to protect my carpets for years, I've narrowed it down to some of the best solutions. You'll find there's a perfect solution for any situation on this thoughtfully curated list. Any of these carpet protectors will help you keep the marks off your floors.
1.
ES Robbins Vinyl Carpet Runner
"ES ROBBINS – where imagination becomes reality®."
The ES Robbins Vinyl Carpet Runner took our top spot on the list because it's thicker. Up to twice the size of most other carpet protectors means you have a serious shield for your floor. Plus, it's less likely to crack under pressure.
Not only are ES Robbins' runners available in a variety of lengths, but they're easy to cut as well. Simply use a pair of heavy-duty scissors or a craft knife to get the exact shape you need. Make sure you use a cutting board if you use a knife.
Based in Alabama, ES Robbins is an American-made company that prides itself on innovative products and solutions. Additionally, they've been around for over fifty years. So you know you're getting a well-made carpet protector based on decades of experience.
Moreover, this company holds a prestigious certification from the Women's Business Enterprise Council South. That means this business is fifty-one percent (or more) owned and operated by women. With a strong dedication to industry-leading innovation, these ladies know how to bring you the best protection.
Unlike some runners, the ES Robbins Vinyl protector doesn't have perforation holes. So you won't have to worry about leaks getting under your protector. Plus, the ribs on the underside hold it firmly in place without messing up your carpet.
Unrolling this floor protector is easier in a warm room, so use a space heater if your home is chilly. It may take a few moments to get your runner to lay flat. Luckily, it provides a damage-free carpet shield as soon as you place it.
Find out more when you click here.
2.
Dimex Clear Rectangle Office Chair Mat
The Dimex Clear Rectangle Office Chair Mat from Amazon is tied for first place for a couple of excellent reasons. The clarity and composition of this carpet protector will surprise you. The industry-leading clarity means you'll hardly even notice there's a mat on the floor. Hence it blends much better with any decor.
Color isn't the only thing Dimex mats are missing (in a good way). As a Greenguard certified floor protector, you won't smell this floor protector. Moreover, it's also BPA and phthalate-free for a healthier home. Unfortunately, toxicity isn't always something we think about when buying plastics, but you should.
Like many good companies, Dimex backs their product with a warranty. For one year, they offer replacements in case of material or workmanship based defects. You have to respect a company that knows they make outstanding products and stands behind (or on top of) them.
Additionally, Dimex is an American company, so you can feel good about supporting local employment options for US workers. They believe strongly in a sustainable, innovative, and durable construction process. Moreover, Dimex produces recycled TPE and PVC for their designs. Unfortunately, you don't see many plastics manufacturers who care about the environment, but Dimex is one of the best.
Check out the Amazon ratings right here.
3.
Resilia Clear Vinyl Protector 
A Resilia Clear Vinyl Protector from Amazon will keep your deep pile carped protected from spills and scuff marks. Furthermore, the decorative non-skid pattern means you'll have a better grip. Whether you are walking or rolling over your carpet protector, you'll be stable. Additionally, they are simple to cut for unusually shaped spaces.
With multiple size and shape options, you can find the right cover for your space. Moreover, these mats are 'sized to fit.' That means they fit easily through doorways. Whatever shape or size you need to protect, Resilia has you covered.
Like most of our choices for this list, Resilia is a made in the USA company. Supporting local jobs in tough times is another superb reason to choose these resilient vinyl mats. However, that's not the only bonus.
Choosing an excellent recycled material carpet protector like these is good for the environment in more than one way. The PVC vinyl is phthalate-free, DINP-free making it safer and healthier to use in your home. Hence, you won't need to worry if your favorite pet tries to 'help' clean up a spill.
We've all seen those Prop 65 warnings California puts on all its products. It's reassuring o know Resilia is Proposition Sixty-Five compliant. Keeping you informed as a consumer is one of the many things every company should endeavor to accomplish.
Finally, Resilia helps protect your carpet from more than spills and skids. A covered carpet is less prone to collecting allergens like pet dander. Moreover, it's harder for dust mites to survive. Mold needs moisture and airflow to grow, so you'll have less trouble no matter what the climate where you live.
Keep your carpet looking great by clicking here.
4.
ProtectME Premium Fabric Protector
ProtectME Premium Fabric Protector from Amazon lives up to its name. With the power of nanotechnology, your carpets will be cleaner and stay healthier for your family. This incredible stain resisting spray holds it's own against water, oil, and dirt. That can lead to less bacteria and fungus issues inside your home as well as cleaner, fresher smelling carpets over time.
ProtectME is an eco-friendly product. A water and silicon dioxide-based formula is odorless, so you don't need to worry about your mess and stain solution causing a different problem. Additionally, PM is non-flammable.
On top of all the other benefits, you'll have waterproof UV protection. The stable barrier will help prevent sun damage for two to three years. No more trading sun-faded carpet spots for natural light is a significant bonus.
Perhaps best of all, you can apply this safe formula without ventilation. In addition to the lack of smell, it's safe to spray ProtectME. So you won't have to worry about what you're breathing in to get a cleaner carpet.
You can save time and money with the right solution. Instead of reapplying often, or wasting your day scrubbing out spots, you can relax, or get other work done around the house.
Have ProtectME delivered when you order it here.
5.
Scotchgard Fabric & Upholstery Protector
Do you need to cover more space than most vinyl protectors can handle? Scotchgard Fabric & Upholstery Protector can coat your carpet everywhere. Go with a well known and trusted name everyone recognizes. Moreover, you can Scotchgard clothing, shoes, drapes, and other furniture like couches.
Pet accidents, clumsy kids, and adult whoopsies are all a part of life. You can't prevent every spill. Fortunately, you don't need to limit what you allow over the carpet when you can wipe it up like you would on a solid floor.
Although Scotchguard only recommends reapplying after a wash, for carpets, you may need to apply the spray more often. Depending on your housekeeping style, some people don't wash their carpets very often. Alternately, you could spot treat any area you clean with a fresh coat.
Keep in mind that liquid solutions need time to set. You'll need to remove anything that's on your carpet and leave the spray to sink in and dry overnight. However, once finished, you will be able to prevent stains and keep moisture from seeping in to do damage.
Wet carpet is no laughing matter since it can grow mold and damage the subflooring. Prevent potential allergies and illness by protecting your floor and cleaning up promptly.
Go with a trusted name in fabric care when you click here.
Bonus Temporary Protection
Some homes don't need full-time carpet protection. When you need to keep an unusual mess away from your flooring for a while, a roll of Kenley Carpet Protector from Amazon will save you a lot of hassle. This durable, puncture and waterproof sheeting will last up to forty-five days. 
Self-adhesive carpet protection film will prevent partygoers from spilling wine, or painters from dripping that accent wall color on your floor. Moreover, it is flexible and works on the stairs, as well. Kenley blocks dust from renovations, or fallout from the kids' summer playdates.
Not every problem needs a permanent solution. Whatever you have planned, a temporary carpet protector can help.  This stunningly simple solution will keep moisture and other issues out. Plus, you can remove it when you're done.
To save yourself the trouble of cleaning up, click here.
Final Thoughts
There's no reason to settle for worn out, stained, and damaged carpets when you could protect them instead. Carpet replacements or professional cleaners are a fact of life. However, you don't need to waste extra money on them more often to have beautiful floors.
Thanks to gravity, everything you do in your home ends up down in the carpets eventually. Luckily you can use a spray or mat carpet protector to keep it from staying there. Cleanup can be easy. Damp cloths and vacuums are enough to handle almost any mess when you're prepared.
Once you know what kind of messes are most likely in your home, finding a solution is simple. Coming home should be relaxing rather than stressful, and it can be with some essential carpet protection.