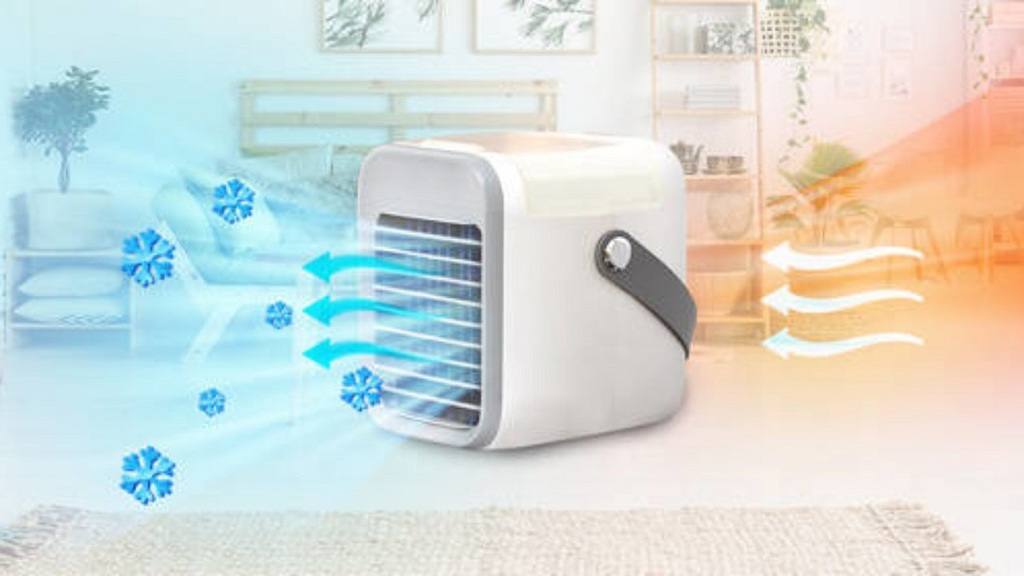 Best Air Cooler for Humid Climate: Chill Out
You've probably heard that air coolers don't work in humid climates, but it's not true. Although there are some limitations to any type of cooler, an excellent evaporative system can help you beat the summer heat if you use it properly. That's where I come in. After years of experimenting with cooling options, I am happy to share some easy facts to help you find the best air cooler for humid climates. There's no reason to skip out on clean, fresh, cold air simply because you heard it might not work. Unfortunately, like so many things, there's a lot of misinformation circulating. People don't mean to spread untruths, but they often don't know better. Learning the best times and methods for using an air cooler will change your perspective on these outstanding heat reducers. It's time to become one of the cool kids with the right air cooler.
Air Cooler Vs. Air Conditioner
To find the right air cooler for humid climates, it helps if you know the difference between a cooler and an air conditioner. The way they cool and circulate air are different, even though the overall effect is the same. Either way, you get colder air indoors.
I strongly recommend using an air cooler instead of an air conditioner. Additionally, not only do air conditioners typically cost more to purchase, but they also use more electricity. Overall, you'll have better indoor air, and lower bills if you use an air cooler.
Air Coolers
Sometimes called swamp coolers, or evaporative coolers, an air cooler uses a pump with water and pads to cool. With the power of evaporation, heat is pulled out of the fresh air before it's pushed out to cool your home.
The process is similar to what happens when you sweat. If a breeze passes over your skin, you'll notice you instantly feel less hot. The air helps sweat evaporate, taking heat with it. Your air cooler is much the same, but it uses water instead of human sweat.
Air Conditioners
Unlike air coolers, air conditioners or AC units use freon or another coolant in place of evaporation. An AC unit will recirculate the same air, recycling it. Unfortunately, this can lead to dry indoor air and low air quality.
Running an air conditioner uses a lot more electricity than an evaporative cooler. Unfortunately, that means you could end up paying as much as eighty-percent more to stay cool. Even high-quality, energy-efficient AC units use substantially more power.
How Humidity Affects Air Coolers
Regrettably, people often believe that humidity only affects air coolers. The reality is that it also changes the way regular air conditioners and even heaters work. More humidity equals feeling hotter, regardless.
Theoretically, air conditioners remove that humidity. However, the reality is that most systems aren't capable of reducing high moisture enough. To achieve serious, intentional moisture reduction in your air, you need a dehumidifier. However, that's not always a great idea since dry air can cause dry skin and even breathing issues for many people.
Unless it's raining, then higher temperatures will cause humidity to go down. That's why the humidity is higher in the morning and evening, even in incredibly damp climates. Luckily, anything below a hundred percent humidity means there's room for evaporation.
Naturally, if you live in a dry climate, like the Sonoran Southwest, you can expect an evaporative cooler to drop the temperature more, and likely faster. However, humid climates will still benefit from a ten to fifteen percent drop in the indoor temperature. Plus, it will cost a whole lot less than the alternative.
Top Five Best Air Coolers for Humid Climates
Choosing the best air conditioners for humid climates isn't as complicated as you might expect. Sure, there are hundreds or thousands of options available. However, it all comes down to quality and efficiency.
You need the best air cooler around if you want the most effective cooling in your damp environment. I've used evaporative coolers for decades, so I know proper cooling. This curated list of the top five air coolers for humid climates will help you find the perfect, energy-efficient cooling solution for summertime.
1.
Evapolar EvaLight Plus
Taking the first place slot on this list handily is the mighty mini Evaploar EvaLight Plus from Amazon. At a mere three-point-zero-eight pounds and ten inches on the longest side, you can chill out anywhere. Furthermore, the Evapolar helps reduce mold and stays almost completely sterile even after thirty-one days of continuous use.
As though that wasn't enough, the EvaLight Plus is whisper quiet. Unlike most AC units and coolers, you can have a personal microclimate without noise pollution. Plus, you'll love the full spectrum LED lights on the side.
When you want a minimal yet attractive cooler that is easy to refill, this is the best choice. Not only does this tiny air cooler pack a powerful, stress-free punch, but it also looks good doing it. Plus, you'll save a ton on your power bills, and it doesn't require as much water as larger units.
Get a personal, portable air cooler when you click here.
2.
Costway 3-in-1 Evaporative Cooler
One of the most unique things about the Costway 3-in-1 Evaporative Cooler is the icebox option. Every air cooler keeps the air temp down, but few are made to include ice. When you truly need to get out of the heat, this unusual feature makes all the difference. 
Additionally, at just seventy-five watts for high-power mode, this incredible energy saver does more than chill the house. You'll save on your electric bills, and get peace of mind. With no refrigerant system to worry about, there's no chance of toxic leaks.
Finally, the remote is convenient, but the seven and a half-hour timer makes it simple to set and forget. You can sleep all night without worrying. No more waking up sweaty and going to turn your AC down with this innovative cooler in the room.
Have a Costway Cooler delivered when you order from Amazon right here.
3.
Honeywell Portable Evaporative Tower Cooler
When it comes to space-saving options, the Honeywell Portable Evaporative Tower Cooler from Amazon is outstanding. Choose from different heights, and set this air cooler with oscillating fans wherever it keeps you the most comfortable.
With features like remote control and low water alarm, it's simple to keep cool all the time. Turn your Honeywell Tower on before you enter your home or office for a welcoming environment. Alternatively, you can use your remote to set the fan or humidifier options.
Unlike other portable air coolers that are useless in dry cold winter months, this incredible machine stays relevant. Skip out on the dry, itchy skin, or just create some air movement when it's not hot out. You'll find plenty of uses for this clever three-way tower.
Learn all about Honeywell when you click here.
4.
Hessaire MC37M Portable Evaporative Cooler
It's not difficult to see why the Hessaire MC37M Portable Evaporative Cooler made our list. The 3-sided rigid high-density cooling pads help give you the largest possible evaporative surface. That means you get colder air, faster.
Hessaire prides itself on having a top tier, easy to use machine. Not only is the MC37M easy to maintain, but the controls are super simple as well. Three independent rotary dials give you plenty of control. So, you can adjust the oscillation motor, fan speed, and water pump with ease.
Additionally, you control the water intake. You can opt to fill the reservoir manually, or hook up a hose for continuous use. The included float adapter prevents overfilling and spillage with no trouble.
Read the Amazon reviews right here.
5.
Duolang Indoor-Outdoor Portable Air Cooler
Choosing a high-quality portable Duolang Indoor-Outdoor Portable Air Cooler from Amazon gives you more versatility. The wheels make it easy to move from one room to another. Plus, you can even head outdoors and stay cool in the summer heat.
Indoors, this unit will cool a massive six-hundred-forty-five square feet. That's a whole lot of cooling. You can also use these smart mobile coolers for garages, barbecues, warehouses, and workshops. You'll appreciate the removable 15.9-gallon large capacity water tank. When you aren't using it for cooling, it doubles as storage during the chilly months.
The only downside to having a superb, high-quality air cooler like this Duolang is wondering why you didn't get one sooner. If you have a porch, gazebo, tool shed, or another outdoor area you want to work in but avoid during summer, this is perfect. Moreover, when you're done, just roll it along with you to keep the living room colder while you relax.
Grab a versatile Duolang by clicking here.
Final Thoughts
Air coolers can be highly effective, even in humid environments. However, you need to remember their limitations. If you live in an unusually wet area, like the southeast, consider adding a dehumidifier to get the best cooling in summer.
No one wants to feel like they're damp all the time. However, a dry air conditioner merely recirculates the same dry air over and over. That can contribute to allergies, dry skin, and low overall air quality.
Choose a high-quality air cooler to stay comfortable in the hot months. You'll appreciate having clean, fresh air indoors.