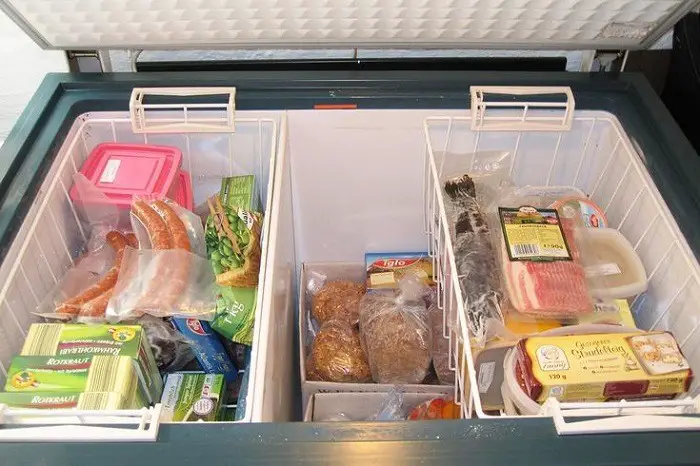 Best Containers for Freezing Individual Meals (Keep Your Meals Alway Fresh)
If you ever had the necessity to freeze individual meals, you know how hard it is to not have the right container. The worst thing that happens is that you waste a lot of food when you could have fixed the problem easily.
The best thing about getting into the "freezing meals" club (yes, it is real) is that you learn to stop wasting so much food and you always have a meal on the go. Be it for the gym, work, or if you are a mom that needs to have ready-to-go meals for your children.
So, we are going to go straight to the point. The best container for freezing meals is the Enther meal prep container.
Now, before we go deeper into the question there are a few things that you may want to know before choosing a container for freezing meals.
If you want to get into the freezing meals game, there are a lot of things that you may need to know. First, you need to decide on the material that composes the container. Since you are intending to freeze the meal, you have to keep in mind that it has to be able to support low temperatures.
Also, you have to take into consideration the size of the container that you need. If you are the kind of person who does not want to get too much into the subject, you can pick any of the 5 below and you will be good to go.
Now, if you want more details, just read everything carefully to make the best decision for you.
Enther Meal Prep Containers

[12 Pack] Single 1 Compartment with Lids, Food Storage Bento Box | BPA Free | Stackable | Reusable Lunch Boxes, Microwave/Dishwasher/Freezer Safe,Portion Control (28 oz)
What to say about a container that does it all. You can either put freezing meals as well as take it into the microwave. It is BPA free, and it is leak proof.
We all know the frustrations that we get from a low-quality food container. It cracks quickly and just messes up with the meal when you take it to the microwave or when you freeze it. Basically, they do not last.
So, the best container will be made of a durable material that can be taken both into the microwave and the freezer. It will not melt or crack. Also, it will be BPA free. The Enther container is all of that.
The reason we elected this one the best is because it not only is durable but is also a facilitator in your day-to-day routine. It makes it easier for you to separate the food so your salad will not mix with your meat.
So, if you want a container for freezing individual meals that keep the taste fresh without cracking, lasting a long time, the Enther container is the one for you. Click Here to get the latest pricing.
https://www.amazon.com/dp/B079QMTX9M?tag=simplecleanhome-20
[10 SETS VALUE PACK]

Glass Meal Prep Containers

– Glass Food Storage Containers with Lids Meal Prep
If you are into glass containers more than plastic ones, the MiscHome meal prep container may be the perfect choice for you. The best feature of this meal container is that it has durable lock lids that will last a long time without cracking or stop working.
You also get a container that can be taken into the freezer and will keep a fresh taste on your food. Way too often, you get containers that do not lock properly and for that reason makes your meal acquire the flavor of other food in the fridge. That does not happen here. Find out the latest pricing for this product by Clicking Here
https://www.amazon.com/dp/B078WYBWZ3?tag=simplecleanhome-20
This is another great meal container. This one was designed, especially, for sandwiches. It has not only a leak-proof system but also a blue ice freezer packs snap that helps to keep your meals chill on the go.
This meal container is perfect to be taken into the fridge and is also BPA free, which is important for your health.
The construction of the container is solid and firm, so it will not crack, melt or have any other possible damage to it. Now, this container by Lunch Boxes is best used with meals that can mix together since it does not have a system to separate the food.  Click Here and check out the latest pricing
https://www.amazon.com/dp/B0078K416Y?tag=simplecleanhome-20
SimpleHouseware

3 Compartment Food Grade Meal Prep Storage Container Boxes
When we say that you can literally pick any item from the list because they are all really good, we are not kidding you. We know how important your trust is on what we are talking about. This container is another great one.
It is stackable, reusable, and durable. What else do you need to know about this one? Okay, you asked for it. It comes with FDA approved lids, a leaking proof system, and it can go into the freezer.
It is guaranteed to keep your meal fresh for when it is time to have it. So, if you want a container to keep the meal tasting delicious this a good option. Get more info by Clicking Here
https://www.amazon.com/dp/B01CYXUGOA?tag=simplecleanhome-20
Glotoch

Deli Containers with Lids
The Glotoch container has premium quality and it is perfect for fruits and berries. It conserves it well while keeping the taste fresh as new, which is even more important for fruits and berries. This is the perfect meal container for your dessert or quick snack if you are trying a healthier diet.
It is also important to let you know that it has an efficient leak proof system and that it is totally safe to take it into the freezer. BPA free, this container is really safe to put your freezing meals. Especially fruits are quite easy to leak liquid, so a leak-proof system shows to be even more important with this one. For the latest information and pricing, Click Here
https://www.amazon.com/dp/B01EFFYTQG?tag=simplecleanhome-20
Final Thoughts
So, these are the best options for containers for freezing individual meals. They are stackable, reusable and durable. The leak-proof system makes sure that the meals will keep the fresh taste while the high-quality material makes it safe to take it into the freezer.
Now do not forget to share this article and leave a comment below on your favorite container in the list.