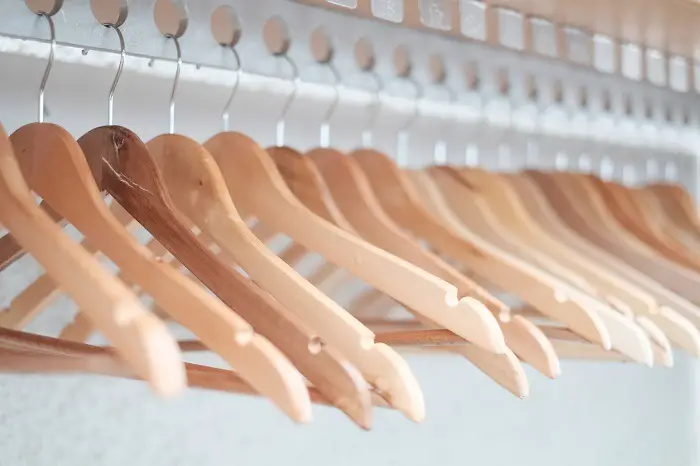 Best Hangers for Knitwear – Looking After Your Knitwear
At the time of writing this article, we are slowly putting our summer dresses and shorts at the back of the wardrobe, and are currently fishing out all of our woollies. Knitwear is a class when it comes to autumn and winter time. There is nothing better than slipping into a nice, warm jumper or cardigan. Knitwear is great so long as it keeps its shape. The best way to keep the shape of any knitwear you own is to hang it up correctly.
Within this article, we are going to take a look at the following: the best hangers for knitwear. As briefly mentioned before, it is important that you take good care of your knitwear, and the best way to do that is find hangers that keep the shape of your knitwear and does not create any pulls or little holes.
Within this article, the following areas will also be discussed:
Looking after your knitwear;
Should I fold or should I hang my knitwear items?
How do I know what hanger to use to hang up my knitwear?
Top 5 hangers to hang up your knitwear.
LOOKING AFTER YOUR KNITWEAR
Nobody likes a woolly jumper that has threads. A lot of us can simply walk through a room and catch our jumpers on a door, which means a thread of wool comes loose. If you are like me, this puts me off wearing it again.
Although there is not much you can do about threading when it comes to actually wearing it, you should begin with looking at your knitwear from the moment it enters your wardrobe.
You should be thinking – how am I going to store my knitwear? Some people prefer to fold their knitwear items, whereas others prefer to hang them. Of course, there is no real right or wrong way to go about this, but we think it is a good idea to master the art of hanging your knitwear.
Below we have included a few key tips with regards to looking after your knitwear:
Machine wash at a maximum of 30 degrees;
Use 'delicate' detergents;
Never dry on a hot radiator;
Use a pilling comb or safety razor to remove small bobbling.
As you can see, we have provided you with a few key tips to help prolong your knitwear. However, another thing to consider is with regards to storing your items.
SHOULD I FOLD OR SHOULD I HANG MY KNITWEAR ITEMS?
Everyone is different when it comes to storing their clothes. What some people fold, others might hang, and vice versa. However, the real question here is whether you should be folding your woolly sweaters?
Some experts say that you should fold, whilst others say hang. There is no real right way of going about this – it really is all about personal preference.
If you do hang your knitwear, you should be aware of the types of hangers you use and the impact this can have on your best sweater. Whilst hanging is fine, you need to ensure that you are using the right hangers to ensure that your knitted jumper doesn't get ruined.
HOW DO I KNOW WHAT HANGER TO USE TO HANG UP MY KNITWEAR?
You have probably never paid much attention to this previously, but you should be aware that certain hangers should be used, and other hangers should be avoided when it comes to hanging up knitwear.
The rest of the article is going to take a look at 5 products that you can take a look at to fix all of those hanging problems.
TOP 5 HANGERS TO HANG UP YOUR KNITWEAR
Below we have outlined 5 hangers to use when hanging up knitwear. Of course, whether or not you want to hang up your knitwear is down to you. However, for the purpose of this article, we are going to look at the best products for hanging up your sweaters.  Along with each product review, we have provided a link for you to gain further information.
Premium Velvet Hangers

Heavy duty – 50 Pack Clothes Hangers – Non-slip IVORY Suit hangers – Clothes Hanger Hook swivel 360 – Ultra Thin
First on our list is the Premium Velvet Hangers for heavy duty. Complete with 50 hangers, this is a great purchase.
Below we have outlined a few key features about the product:
High-quality cloth hangers for ultra strong, flexible and durable usage;
360-degree swivel hook;
Cloth hangers create a unique shape which prevents creasing, threading and slipping.
This product is ideal for people who wish to hang their knitwear. Check out the pricing for this item Here
SONGMICS

Clothes Hangers Plastic 50 Pack -Easy and Convenient with Widened Non-Slip Grooves and Reinforced Ends
Next on our list is the Songmics Clothes Hangers. Again, this is another fantastic product that comes as a pack of 50.
Below we have outlined a few key features about the product:
Slim design to ensure you make the full use of your closet space;
Additional clips for more flexibility;
10 additional clamps to attach trousers, skirts;
Ideal for knitwear;
Eco-friendly and durable to resist against aging and discoloration;
Jackets and trousers can be hung together to create even more space in your wardrobe.
For purchasing this item be sure to check it out Here.
Tosnail

10 Pack Black Super Grippy Slip-reducing Contour Shirt Hangers, The Dimple & Crease Free Hanger Solution
This product is another great choice for you if you want to hang your knitwear. This hanger has been carefully designed to preserve garments and eliminate shoulder bumps.
Below we have included some key assets of purchasing the Tosnail 10 pack black super grippy hangers:
Black dipping coating which is smooth and delicate. Includes no sharp edges to ensure that your knitwear does not get threaded;
Dimple and crease free hanger design to ensure your clothes look in great condition;
Comes as a pack of 10;
Space efficient to maximize the space in your wardrobe.
For more information regarding this product, take a look Here
House Day

Velvet Hangers 60 Pack- Non-Slip Velvet Suit Hangers Space Saving Clothes Hanger 
Although this is a hanger suited for suits, this also acts as a great choice for hanging knitwear items. For a great price, you will be provided with:
Velvet hanger ideal for shirts, trousers, jumpers, ties, scarfs, and dresses;
Easy S-opening hanging ideal for garments with tight collars;
Soft velvet material which easily grips the material of clothes without threading them – especially if it is woolly;
Slim profile ensures that you have lots of additional wardrobe space.
Take a look at the price Here You won't be disappointed.
GLCON

Clothes Padded Hangers Woman Canvas Pastel Non-Slip Wedding Dress Velvet Hanger Anti – Rust Hook Sweaters Skirt Coat Suit Blouse
Finally on our list is the Glcon Clothes Padded Hangers. This is a very pretty designed hanger that will ultimately create style in your wardrobe.
Below we have included a few key product features:
Padded hangers made of hardwood and fashionable floral fabric to grip clothes and stop them slipping;
Strong padding to prevent damage to clothes;
Bow at the neck of the hanger for pure decoration – great for women!
Clothes hang in their natural state.
Wondering about the price, look no further than Click Here
Final Thoughts
Hopefully, this article has provided you with some insight with regards to storing your knitwear. At the end of the day, whether you hang or fold your knitwear, it is important that you try to avoid any damage including snagging.